NY062 series Millimeter Wave Broadband Delay Line
Mainly composed of a high-power electro-optical conversion module, electro-optical modulation module, optical fiber delay module, photoelectric conversion module, delay control and visual touch screen system, network remote control system, RF input/output interface, and power supply system, etc.
The main function is to delay the millimeter wave signal received by the radar(The specific delay can be set on the touch screen) and then input it to the receiving system of the machine room.
Due to the natural ultra-strong anti-interference ability of optical fiber communication, it can avoid the interference of spatial leakage signals caused by traditional cable delays. Based on this anti-interference characteristic, the receiving system can obtain a reference signal that is closest to the radar-transmitted signal, thereby accurately calibrating the system.
Input signal: common ground radar pulse, continuous wave signal, pulse group, or pulse rapid frequency conversion signal.
Feature
Controllable delay
High stepping accuracy
Low signal distortion
Millimeter wave Ultra wideband
Application
Radar simulation
Signal processing
Electronic war
Schematic




Electrical / Optical Characteristics
Parameter

Value

Unit

Remarks

Min

Typ.

Max

Frequency

17

–

40

GHz

–

Flatness

–

–

2

dB

Within any 2GHz bandwidth

Time delay

0.25

–

400

us

–

Altitude

37.5

–

60000

m

–

Time delay step

–

0.25

–

us

–

Altitude step

–

37.5

–

m

–

Time delay accuracy

–

–

0.05%

–

–

Insertion loss

–

–

40

dB

–

Group delay fluctuations

–

–

1

ns

K or Ka band

–

–

2

ns

Full frequency band

Clutter rejection ratio

60

–

–

dBc

–

Harmonic suppression ratio

30

–

–

dBc

–

Maximum input power

–

15

dBm

–

Pass-through suppression

60

–

dBc

–

VSWR

–

–

1.4

–

50Ω,Full frequency

Working temperature

-10

–

35

℃

–

Storage temperature

-20

–

45

℃

–

Connector

Type K

Power supply

220VAC/50Hz
Display function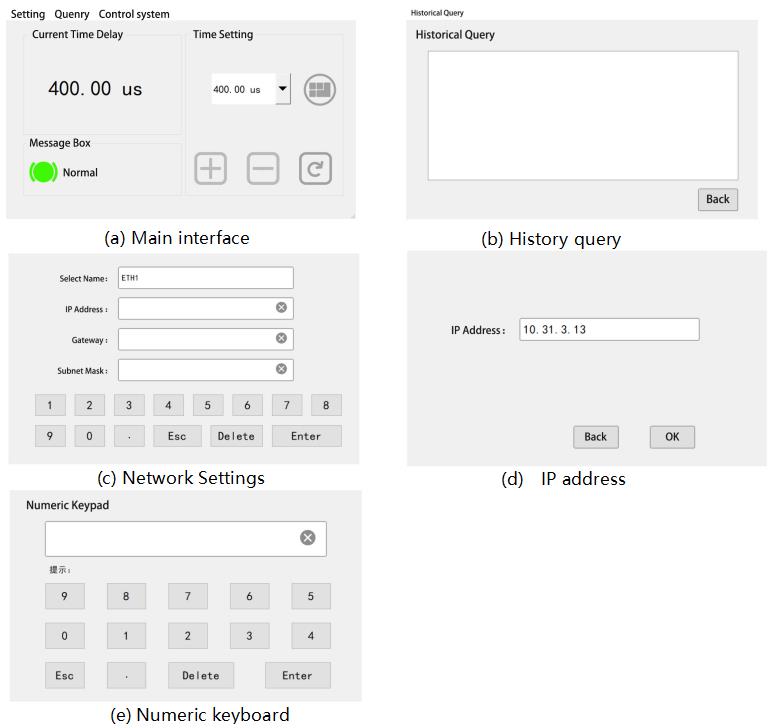 | | |
| --- | --- |
| Item | Functional Description |
| Query | Enter the history query interface, and display the history record. As shown in Figure b. |
| Settings | Enter the network setting interface (Figure c) to set the local IP address, gateway, and subnet mask |
| Control System | Connect to the background program to set up the background IP address. As shown in Figure d. |
| | Displays the current delay status. Press "" to display and quickly select the delay time set for the last 5 times |
| | Enter the numeric keyboard interface and set the delay. As shown in Figure e. |
| | Increase by step of 0.25us over the delay time currently displayed |
| | Step is reduced by 0.25us based on the currently displayed delay time |
| | The delay time can be set to the value displayed in the current display box "", and the setting result can be returned to the message box on the main interface. |
| | Delay state was set successfully |
| | The delay state setting is abnormal |
Typical curve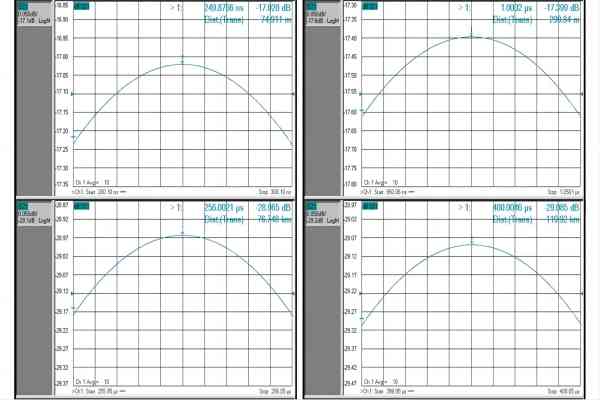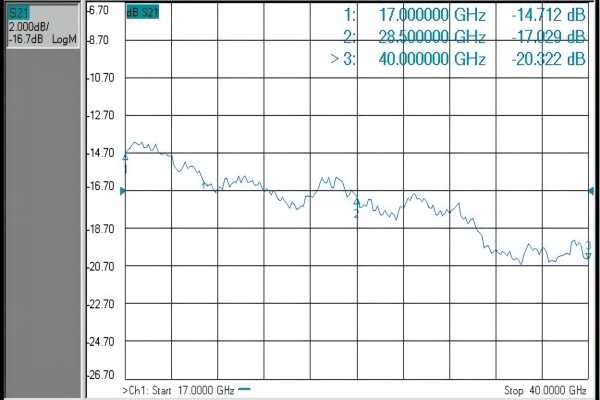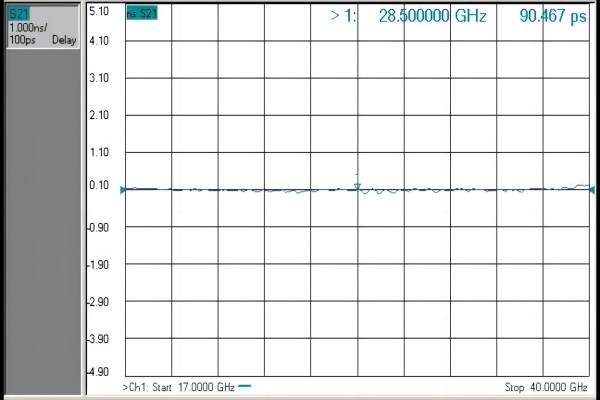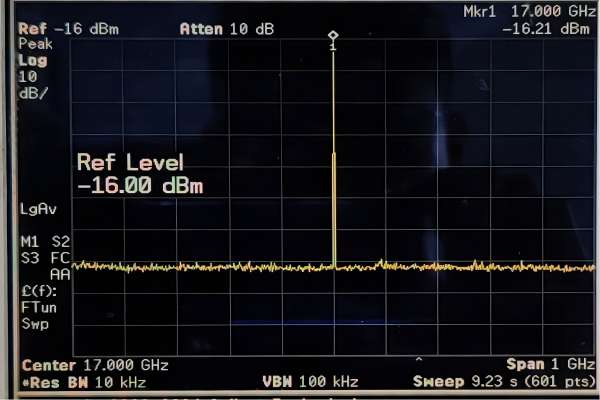 Dimension and Interface
NY062 millimeter wave broadband delay line integrated into a standard 19-inch 4U chassis. The chassis is made of aluminum alloy, and the middle of the front panel is a touch screen, which can display the current delay state and realize the switching function of the delayed state.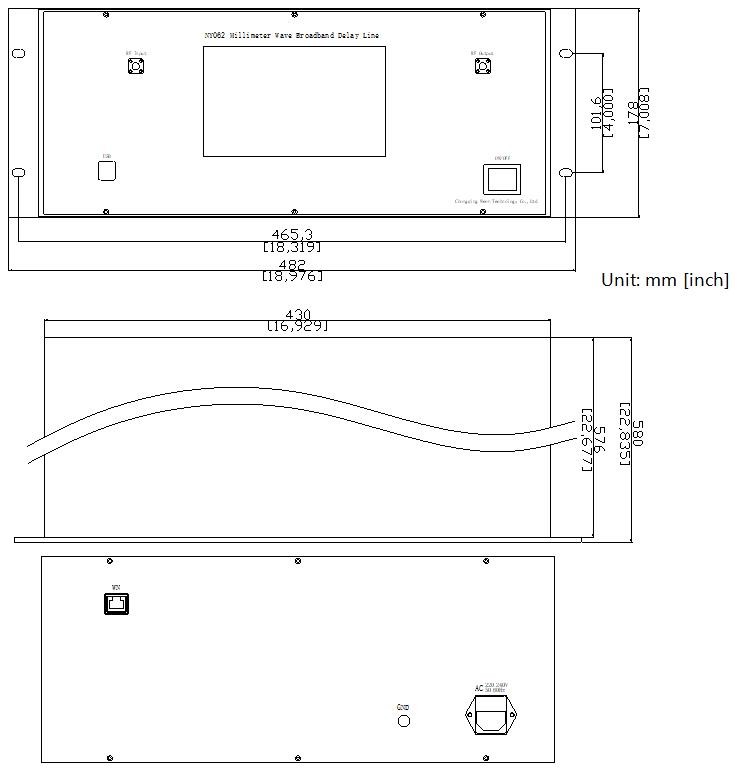 Interface definition of NY062 Series
Interface
RF input
RF output
USB
GND
Interface Type
SMA-K
SMA-K
Type -A
SPST KCD 4
YT-RJ45
M6
220V/AC
This series of products are customized, and the product information in this article is for reference only.