10KM DWDM SFP+ Optical Transceiver AMSPXXL10CWPI
Features
Compliant with SFF-8431,SFF-8432 and IEE802.3ae
Wavelength selectable to ITU-T standards covering DWDM
Operating case temperature:
Standard : 0 to +70°C
Industrial: -40 to +85°C
Low power consumption
Advanced firmware allows customer system encryption
Applicable for 10km SMF connection information to be stored in the transceiver
All-metal housing for superior EMI performance
A cost-effective SFP+ solution enables higher port densities and greater bandwidth
For the OBSAI application, the rates are 6.144Gb/s, 3.072 Gb/s, 1.536 Gb/s, and 0.768 Gb/s.
For the CPRI application, the rates are 6.144Gb/s, 3.072 Gb/s, 2.4576 Gb/s, 1.2288 Gb/s, and 0.6144 Gb/s.
ROHS6 compliant (lead-free)
Description
SFP+LR DWDM Transceiver is a "Limiting module", designed for 10GBASE-LR, and 2G/4G/8G/10G Fiber-Channel applications.
The transceiver consists of two sections: The transmitter section incorporates a
DFB laser
. And the receiver section consists of a PIN photodiode integrated with a TIA. All modules satisfy class I laser safety requirements. Digital diagnostics functions are available via a 2-wire serial interface, as specified in SFF-8472, which allows real-time access to device operating parameters such as transceiver temperature, laser bias current, transmitted optical power, received optical power, and transceiver supply voltage.
Applications
10GBASE-LR at 10.3125Gbps
Other optical links
10G Ethernet
For the OBSAI application, the rates are 6.144Gb/s, 3.072 Gb/s, 1.536 Gb/s, and 0.768 Gb/s.
For the CPRI application, the rates are 6.144Gb/s, 3.072 Gb/s, 2.4576 Gb/s, 1.2288 Gb/s, 0.6144 Gb/s
Specification of Product
Table1-Absolute Maximum Ratingster
Parameter
Symbol
Min
Max
Unit
Power Supply Voltage
Vcc
0
3.6
V
Storage Temperature Range
Tc
-40
85
°C
Operating case temperature
Tc
0
70
°C
Relative Humidity(non-condensing)
RH
5
95
%
RX Input Average Power
Pmax
–
3
dBm
These values represent the damage threshold of the module. Stress in excess of any of the individual Absolute Maximum Ratings can cause immediate catastrophic damage to the module even if all other parameters are within Recommended Operating Conditions.
Table2-Recommended Operating Conditions
Parameter
Symbol
Min
Typ.
Max
Unit
Supply Voltage
Vcc
3.13
3.3
3.47
V
Supply current

[1]

I

cc

–
–
360
mA
Operating case temperature
T

c

a

-5
–
70
°C
Module Power Dissipation
Pm
–
–
1.5
W
Table3- Digital Diagnostic Functions
Accuracy
Parameter
Symbol
Min
Max
Unit
Note
Transceiver Temperature
DMI_Temp
-3
3
degC
Over operating temp
TX Output optical power
DMI_TX
-3
3
dB
RX Input optical power
DMI_RX
-3
3
dB
0dBm to 18dBm range
Transceiver Supply voltage
DMI_VCC
-0.08
0.08
V
Full operating range
Bias current monitor
DMI_Ibias
-10%
10%
mA
Dynamic Range Accuracy
Transceiver Temperature
DMI_Temp
-5
70
degC
TX Output optical power
DMI_TX
-5
0.5
dBm
RX Input optical power
DMI_RX
-18
0
dBm
Transceiver Supply voltage
DMI_VCC
3
3.6
V
Bias current monitor
DMI_Ibias
0
100
mA
Table4- Optical Characteristic
Parameter
Unit
Values
Note
Operating Reach
m
10K
Transmitter
Center wavelength (range)
nm
1530-1560
Side Mode Suppression Ratio (min)
dB
30
Launched power
-maximum
dBm
0.5
– minimum
dBm
-8.2
Notes 1
-OMA
dBm
-5.2
-OMA-TDP (min)
dBm
-6.2
Transmitter and dispersion penalty
dB
0
Notes 4
Average launch power of OFF transmitter (max)
dBm
-30
Extinction ratio (min)
dB
3.5
Notes 2
RIN12 OMA (max)
dB/Hz
-128
Optical Return Loss Tolerance (min)
dB
12
Receiver
Center wavelength (range)
nm
1530-1560
Receive overload (max) in average power1
dBm
1.5
Receive sensitivity (min) in average power1
dBm
-14.4
Notes 3
Receiver sensitivity (max) in OMA (footnote 2)
dBm
-12.6
Notes 3
Receiver Reflectance(max)
dB
-12
Stressed receiver sensitivity (max) in OMA2
dBm
-10.3
Vertical eye closure penalty (min)3
dB
2.2
Stressed eye jitter (min)2
Ulp-p
0.7
Receive electrical 3dB upper cutoff frequency (max)
GHz
12.3
Receiver power (damage, Max)
dBm
1.5

Notes:
1.The optical power is launched into SMF
2.Measured with a PRBS 231-1 test pattern@10.3125Gbps
3.Measured with a PRBS 231-1 test pattern@10.3125Gbps BER≤10-12
In G.652 and G.655(NDSF)
The following optical characteristics are defined over the Recommended Operating Environment unless otherwise specified.
Table5- Electrical Characteristic
Parameter
Symbol
Min
Typ.
Max
Unit
Note
Data Rate
–
10.3125
–
Gbps
Power Consumption
–
1200
1500
mW
Transmitter
Single Ended Output Voltage Tolerance
-0.3
–
4
V
C common mode voltage tolerance
15
–
–
mV
Tx Input Diff Voltage
VI
400
1600
mV
Tx Fault
VoL
-0.3
0.4
V
At 0.7mA
Data Dependent Input Jitter
DDJ
0.1
UI
Data Input Total Jitter
TJ
0.28
UI
Receiver
Single Ended Output Voltage Tolerance
-0.3
–
4
V
Rx Output Diff Voltage
Vo
300
850
mV
Rx Output Rise and Fall Time
Tr/Tf
28
PS
20% to 80%
Total Jitter
TJ
0.7
UI
Deterministic Jitter
DJ
0.42
UI
The following electrical characteristics are defined over the Recommended Operating Environment unless otherwise specified.
Pin-out Definition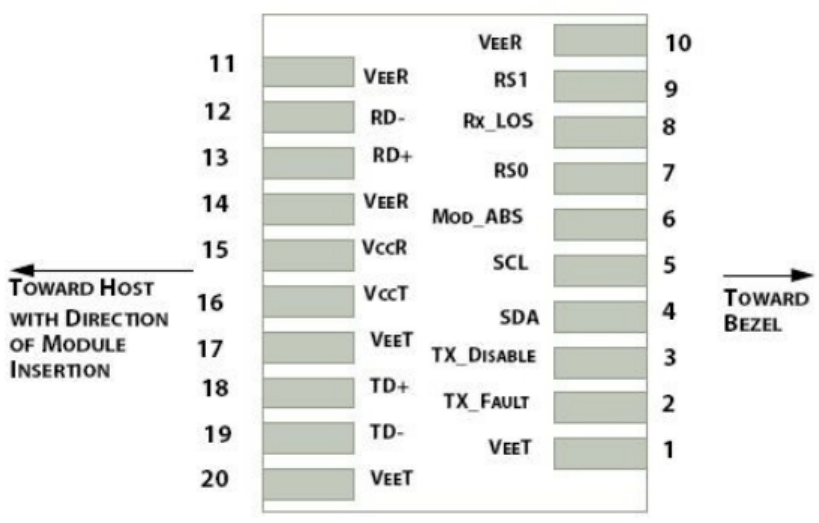 Figure 1 Interface to HostPCB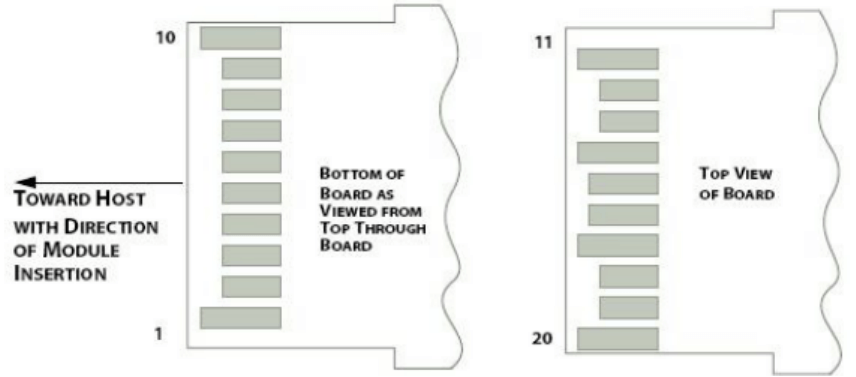 Figure2 Module Contact Assignment
Table6-Pin Function Definitions
Pin
Symbol
Name/Description
1
VEET [1]
Transmitter Ground
2
Tx_FAULT [2]
Transmitter Fault
3
Tx_DIS [3]
Transmitter Disable. Laser output disabled on high or open
4
SDA [2]
2-wire Serial Interface Data Line
5
SCL[2]
2-wire Serial Interface Clock Line
6
MOD_ABS [4]
Module Absent. Grounded within the module
7
RS0 [5]
Rate Select 0
8
RX_LOS [2]
Loss of Signal indication. Logic 0 indicates normal operation
9
RS1 [5]
Rate Select 1
10
VEER [1]
Receiver Ground
11
VEER [1]
Receiver Ground
12
RD-
Receiver Inverted DATA out. AC Coupled
13
RD+
Receiver DATA out. AC Coupled
14
VEER [1]
Receiver Ground
15
VCCR
Receiver Power Supply
16
VCCT
Transmitter Power Supply
17
VEET [1]
Transmitter Ground
18
TD+
Transmitter DATA in. AC Coupled
19
TD-
Transmitter Inverted DATA in. AC Coupled
20
VEET [1]
Transmitter Ground
Notes
The module circuit ground is isolated from the module chassis ground within the module.
Should be pulled up with 4.7k-10k ohms on the host board to a voltage between 3.15V and 3.6V.
Tx_Disable is an input contact with a 4.7 kΩto 10kΩ pull up to VccT inside the module.
Mod_ABS is connected to VEET or VEER in the SFP+ module. The host may pull this contact up to Vcc_Host with a resistor in the range of 4.7 kΩ to 10 kΩ Mod_ABS is asserted "High" when the SFP+ module is physically absent from a host slot.
RS0 and RS1 are module inputs and are pulled low to VEET with > 30 kΩ resistors in the module.
Recommended Interface Circuit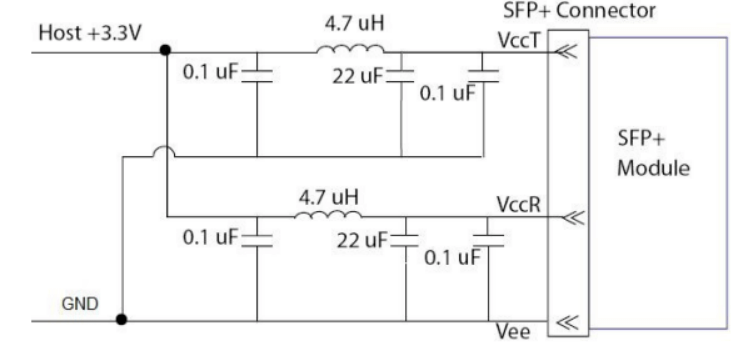 Figure3 Host Board-Power Supply Filters Circuit
Lock Diagram of Transceiver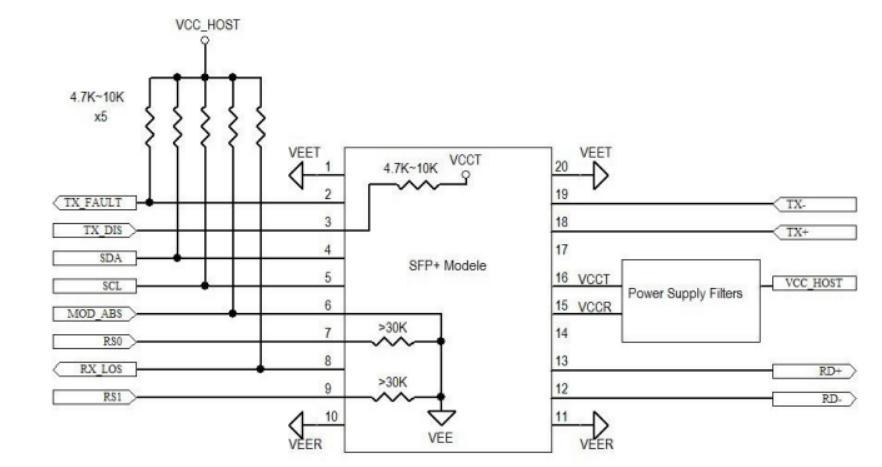 Figure4 Host-Module Interface
Mechanical Dimensions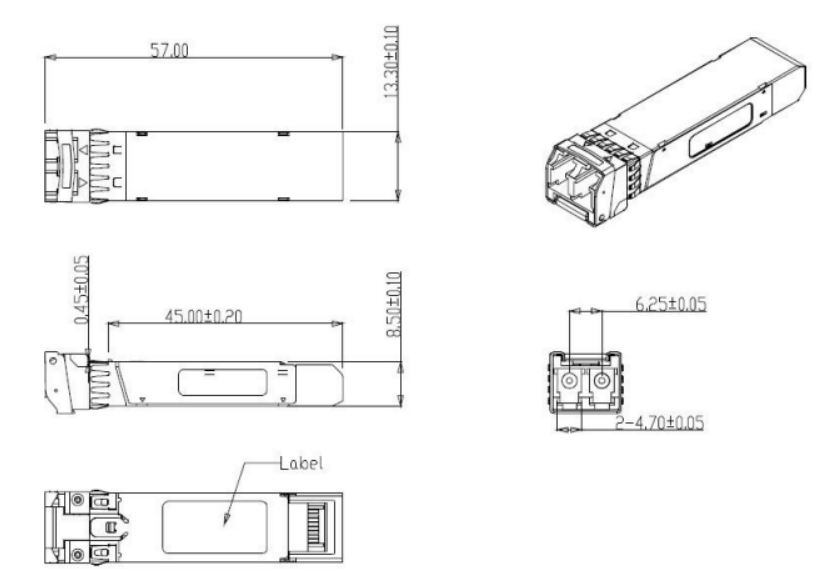 Figure5 Mechanical Dimension
Regulatory Compliance
SFP+ transceiver is designed to be Class I Laser safety compliant and is certified per the following standards:
Table

7-

Regulatory Compliance

Feature
Agency
Standard
Laser Safety
FDA
CDRH 21 CFR 1040 and Laser Notice No.50
Product Safety
UL
UL and CUL EN60950-2:2007
Environmental protection
SGS
R

O

HS Directi

v

e 2002/95/EC

EMC
WALTEK
EN 55022:2006+A1:2007
EN55024:1998+A1+A2:2003
Ordering Information
Table8 – Ordering Information
Part No
Specification
AMSPXXL10CWPC
10Gbps, DWDM SFP+LR 10km, 0°C ~ +70°C
AMSPXXL10CWPI
10Gbps, DWDM SFP+LR 10km, -40 to +85°C
References
"Specifications for Enhanced Small Form Factor Pluggable Module SFP+", SFF-8431, Rev 4.1, July 6, 2009.
"Improved Pluggable Formfactor",SFF-8432, Rev 4.2, Apr 18,2007
3ae 一 2002
"Diagnostic Monitoring Interface for Optical Transceivers" SFF-8472, Rev 10.3, Dec 1,2007
Important Notice
Performance figures, data and any illustrative material provided in this data sheet are typical and must be specifically confirmed in writing before they become applicable to any particular order contract. In accordance with the policy of continuous improvement, specifications may change without notice. The publication of information in this data sheet does not imply freedom from patents or other protective rights of others. Further details are available from any sales representative.